Software Development - High Definition Pro Telecine - Custom Telecine Systems Design
Pro Video Calibration and Test Software Tools - 3D Print Services
Real-time Color Cube Gamut scopes - Video Calibration and Measurement API Software
Video Software Products - Broadcast, Post Production
MultiScopeLite - Entry level video monitoring tool
MultiScopeCompact V4.0.2 - Updated Pro video and audio monitoring tool
MultiScopeCompact V3 has been discontinued. Version V4 Now available
Now supporting video histogram scopes for WFM, Vectorscope color distribution
Adding color cube scopes for out of gamut detection and verification
High resolution integrated video monitor in 16:9 or 4:3 aspects
Supports many PCI, RTSP Ethernet and USB computer video interfaces
Processes a number of SD and HD video resolutions (480 to 1080)
Calibrated ITU-R BT.601 and ITU-R BT.709 color spaces
Supports display LCD resolutions of 1280x720 and better
Accepts HDMI and SDI uncompressed SD and HD real-time video streams
Supports Firewire, Thunderbolt, HDMI, SDI, composite, S-video, component
Accepts BlackMagic, AJA, Microsoft, Hauppauge, Avermedia, Grass Valley...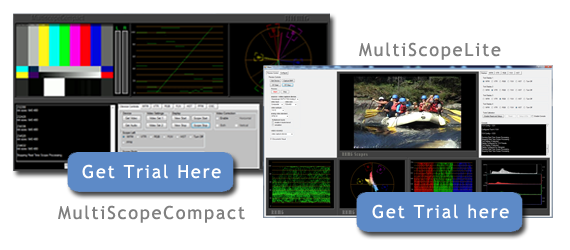 Audio\Video API Library Functions - Engineering, Systems, Test
15 audio\video analytical display functions
2D-waveform monitor, vscope,RGB\YCrCb Parade, Histo,VU,waveform,phase
3D-waveform monitor, vscope,RGB\YCrCb Parade, RGB\Gamut YCrCb cube
Built-in graphics display engine - just present audio or video data streams
Simple function calls for real time audio\video display
Generic Open GL display features
Comes with detailed Developers Guide
8bpp support only, wide range of frame resolutions and aspect ratios
.Net development environment C++, C#, VB, MSStudio
Built-in performance manager
Multiple instances, multi-threaded
Graphics Software Products - Post, Photography, Engineering
Still motion version of MSCompact with same user controls and scopes
Image analysis - color space, full RGB, YCrCb
Uncompressed Bitmap file input only at this time
Same access to both 2D and 3D scopes and controls
Image resolutions to 4k x 4k in full 24bit color (8bit per pixel)
Will accept any image aspect ratios
Image data analyzed using recognized graphic analysis display tools
Simple intuitive user interface - w/key property adjustments
NEW -- Full or BT709 BT601 masked gamut adjustment
Pan-zoom and rotational controls in real-time for each scope
Follow my 3D Printed HD Telecine System Project - Jan 2019
1280x720 - 3D printed HD telecine system build using off the shelf parts
1920x1080, 2K and 4K upgrade path to be built-in
Real-time system operation is planned -- actual 24fps, 18fps and 15fps run times
User set fixed and variable film indexing speeds (1fps to 24fps)
Arduino (UNO / Due) is being used for test and system control,
Complete fully described BOM (Bill of Materials) will be available
All 3D print STL design files will be available
Custom windows software application for camera control and streaming management
Planned to handle 8mm, Super and 16mm films for now
Upgrade path for 35mm academy film considered – 400ft or less for now
Standard choice of HDMI, USB2 or USB3 interface, ext triggered cameras
System budget is set to be less than $1000. Camera and lens ain't cheap.
RHMG Software Development - Engineering, Scientific
Custom digital video applications
Imaging application development - Lumenera Cameras
Custom hardware interfacing
Testbed application development, protoyping
Network application software - wireless, hard wired
Custom telecine imaging and processing systems
Digital Audio
Signal analysis applications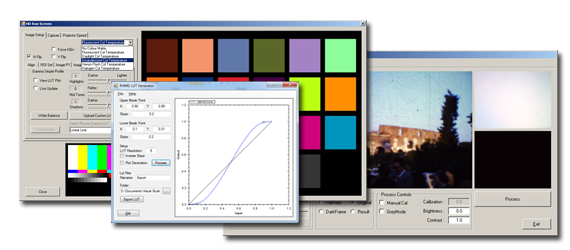 Professional HD Film Transfers
2 Megapixel 4:4:4 uncompressed image capture
Frame by frame imaging
Quicktime YUV 4:2:2 files to DIY hard drive
scene by scene colour/density correction available
optional pro de-grain services. Cleans dust and light scratches
Blu ray, AVCHD or film masters to SATA hard drives
edge to edge film frame capture
Guaranteed no flicker
See HomeDVD.ca for Consumer and Professional video tape transfers